So I've talked a lot of crap about the Cowbell and my "More Cowbell" playlist on Twitter and Facebook lately, and I've had a couple questions about it (well, ok, no questions, but this is my blog, so I'm talking about it anyway!) and I figured I'd run through it and comment here and there for y'all. Great idea, right? I mean, everyone can use more cowbell, right?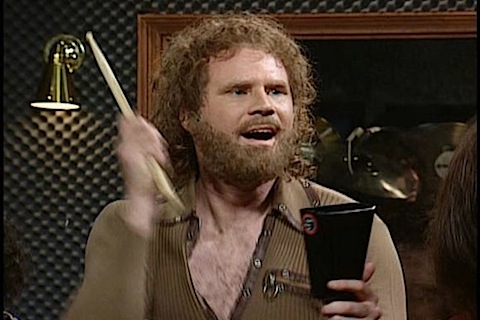 Now that you're all primed for this, let's get rolling. We're gonna rock a bulleted list for this post, cause the bullets kinda remind me of a cowbell if I squint REALLY hard.
First up, we've got Nazareth's "Hair of the Dog". This song starts STRONG, with massive amounts of cowbell right out of the gate. Then you've got a pissed off (and likely drunk) Scottish guy yelling "Now you're messin' with a… SON OF A BITCH!" into the mic. This song climaxes with a talkbox AND cowbell solo that's just crazy amounts of epic awesome. If this doesn't get you going in the morning, nothing will.
Then I put a palate cleanser in there. Prince's "U Got the Look". Yes, it's Prince. But you've got Shelia E. banging away on drums AND cowbell… and 80s icon Sheena Easton singing the chorus. Nothing wrong with any of that.
Next, AC/DC's classic, "You Shook Me All Night Long". The cowbell here is audible, but more subtle and mixed in than on either of the previous tracks. Still, it's a cowbell classic.
We get back to some loud cowbell with the B-52s "Love Shack". The cowbell here sounds… different, slightly muted, but definitely in there and rockin' with the band. Just the right amount of cowbell to offset the freak of the '52s.
Then we flash back to the 60s with the Beatles and "Drive My Car". My man Ringo whacks that bell all throughout this song, but he's got JUST the right amount of cowbell. The man is a genius.
Now it's on to Joe Walsh and the James Gang with "Funk #49". Fair amount of cowbell, but the high point is a cowbell and bongo solo. Plus, you've got a presidential candidate on vocals, how can you go wrong with THAT?
Moving up to the late 80s with Warrant's "Cherry Pie". Subtle cowbell here, of course, as you don't want to overwhelm the cherry bouquet of the 80s glam rock.
Back to the 60s again, with the Beatles "Magical Mystery Tour". Ringo's whacking his bell again on this one, though not nearly as much as "Drive My Car". The tune doesn't call for as much cowbell, though. If cowbell were a spice, Ringo would be a master chef.
I crank the cowbell back up to 11 with Grand Funk Railroad's "We're an American Band". You know that if the first note on the tune is a cowbell that you're in for a treat, and this song definitely will be a prescription to your cowbell fever.
Then I bounce into another classic cowbell track - "Honky Tonk Woman", by the Rolling Stones. Between Mick, Keith, and the cowbell, I'm not sure who the star of this song is.
Now we roll into "Low Rider" by War. Lots of Latin cowbell in this track (el cowbello?) but the whole thing works, and you can't help but think of a slammed Impala rollin' slow, and jumpin' with hydraulics down the boulevard when this track kicks in.
"All Right Now", by Free. This tune rolls back our cowbell level to a dosage of about 8 or so, but it's a great rock 'n roll track. Hard to believe Paul Rodgers was 21 when he belted out that tune.
We keep the cowbell simmering at an 8 with Bachmann-Turner Overdrive's "You Ain't Seen Nothing Yet". Heavy cowbell in the chorus, but it backs off the 'bell at times so you don't cowbell overdose.
Gunter glieben glauchen globen. That's how "Rock of Ages" by Def Leppard starts, then tosses you straight into drummer Rick Allen's cowbell. They call Allen "The Thunder God", but all I can hear here is cowbell.

As we roll into the home stretch, we bring the cowbell down to a low boil at about a 7 level with Edgar Winter's "Frankenstein". Speaking of Frankenstein, have you seen Edgar Winter? The dude's an albino. Trip OUT. But between the synth, cowbell, and guitar, the tune's a 70s era masterpiece.
Then we slam right into cowbell right off the bat again with "Mississippi Queen" by Mountain. This is one of the quintessential rock tunes with the cowbell. The bell's loud and proud throughout the whole tune, and the kickin' guitar keeps your foot tappin' the whole time. The only problem with this song is that it ends too soon.
Leave one bell, and start another with Van Halen's "Dance the Night Away". Alex Van Halen's just beating the CRAP out of the cowbell on the whole track, and Dave's vocals are great, not to mention the guitar and bass tones from Eddie and Mikey. This song's one of my overall faves, at least it was until the LAME zero-g dancing scene in that piece of shit movie "Mission to Mars". WTF, Brian DePalma. Way to screw up a great song for me, dick.
Two songs left, and we're back to the Beatles again with "A Hard Day's Night". Again, Ringo is just effing BRILLIANT with the cowbell. The man is the Emeril LaGasse of the cowbell, I swear. Just the right amount. Remember all those old shots of girls fainting in the 60s when the Beatles were playing? It wasn't the sight of four bucktoothed Brits they were fainting at, it was Ringo's mastery of the cowbell.
Finally, I end the playlist on a high note with Blue Oyster Cult's "Don't Fear the Reaper". Thanks to Chris Walken and Will Ferrell, this will forever be known as THE cowbell song. You're gonna want more cowbell on that track indeed, Bruce Dickinson. There's a stampede of bell in this thing, and it's a freaking masterpiece for it.
Well, that's my current "More Cowbell" playlist. I'm going to keep adding to this thing, so feel free to put your suggestions in the comments field. If I like yours I'll add it, too.