Yeah, this post is a few days late. Things have been hectic, between work and Linuxworld.
So anyhow, let's start with Linuxworld on Tuesday. I got to attend as a guest of HP, which was very nice. Filet Mignon lunch, anyone? Mmmmm. All I had to do was speak on their blades and how they run under Linux. I meant to write something up, but didn't have time (see work, as above), so I just got on stage and winged it. Wound up speaking for about a half hour, and it must have been OK cause I got several compliments afterwards, one of which was the district sales manager for HP. He'd said I should be one of their employees. Heh. I like their gear, but… nah. ;)
I then visited Adam and Jorge as they held down the fort at the GNOME booth. Always good to see those guys. Jorge introduced me to Jane Silber, COO of Canonical - that was indeed a pleasure. Hung out with the GNOME crew till just before 5, then had to run and find a landline for my radio interview with John Iasiuolo. Kyle joined me as co-author of Ubuntu Hacks. (Jon Oxer, being an Aussie, had a hard time making the interview. :( ) The interview went very well, and I had a blast doing it. I was able to sneak off just before the interview and see Jorge and crew win the Golden Penguin award – GREAT JOB GUYS! Show those Novell fellas who's boss. ;) Next, on Wednesday, Kyle and Paul joined the fun at Linuxworld. Kyle kicked off the O'Reilly booth action with a kickass talk on DVD Authoring. If you need DVDs authored, and you want to do it under Linux, may I suggest this book? ;) After that, we hung with Adam some more, and banged around until my talk on Ubuntu at the O'Reilly booth. Again, I didn't prep anything, sadly, but I did a talk off the top of my head on running Dapper on a laptop. It seemed to go well, though Kyle (as my shill) did prompt me a couple of times. :) Teamwork++. Again, I had a blast speaking - I think I'm beginning to get a taste for it.
Now, for the icing on the whole cake. The Novell guys had a HUGE booth this year, and one of their centerpieces was a special IBM X60 Thinkpad that had a cool custom SUSE paintjob. They had three of these units, and they were raffling off one every day. A bunch of the guys were all, "I'm gonna win that laptop", and "It'll be so sweet when I win that." I wasn't going to fill out a card, mostly cause I never win anything… but everyone else was filling out cards, and I was hanging out, so I figured, what the hell. Well, come 4:45 that day… the drawing happened, and they pulled my card out of the box. I damn near passed out. Here's a picture of the incident (courtesy of one of the SUSE guys - I'll get his name if I can).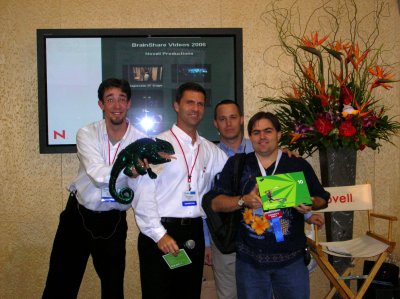 Jorge has been bugging me for pics of the laptop, so here it is. SUSE folks, sorry, I didn't even give it a chance. Popped a Ubuntu CD in it and booted straight to Dapper.
The fancy paint: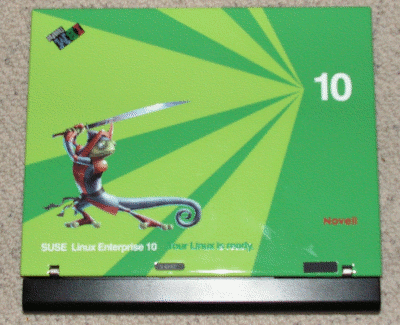 Ubuntu Booting on it…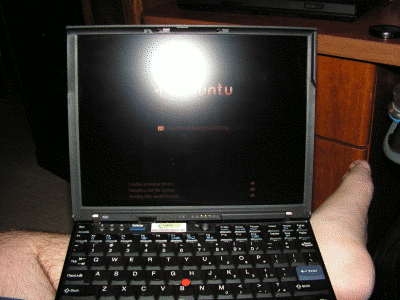 And here's the GDM splash screen…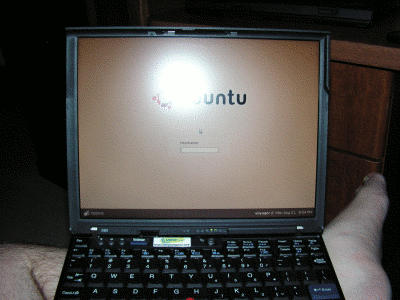 So all in all, it's been a pretty great few days. :) Now, back to work tomorrow….