Ok, made it to Linuxworld this year - I think that's 5 years in a row now. Linuxworld isn't the gee-whiz show it used to be - for the most part, it's gone from geeks to slick marketing demos (with a few exceptions, like the Debian booth).
This year's LW expo differs from the last few in that there's certainly more vendors there, and they're offering more free swag and goodies. For a geek like me, this is a good thing. :) Unfortunately, there weren't any booth babes like back in the heyday of the bubble… oh well.
Enough of this, let's see some pix!
Here's the entryway to the exhibit hall: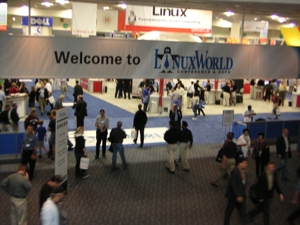 Here's Sun employee Hideya Kawahara with his baby, "Project Looking Glass", a new 3D window manager. Very slick thing to play with - I am probably going to see if I can get it running on one of my Linux boxes at the house.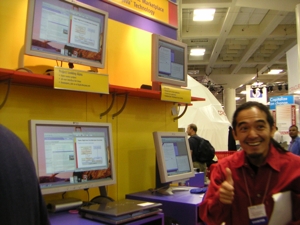 This image is dedicated to Ben Gooley - it's a picture of a T-Shirt that was at one of the booths there (can't remember the booth off the top of my head).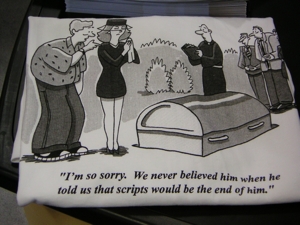 I see the Novell guys have re-branded Evolution as one of "their" products.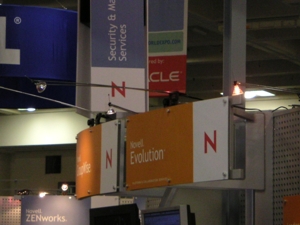 And here's the Debian booth, off stuck in a corner somewhere. Some things never change. :)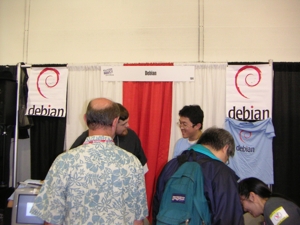 The Gentoo crowd was there too, and they'd one some kind of open source excellence award. I didn't see them giving out any media of any kind though - looks like Gentoo's lost some steam over the last year. (I know I've moved from Gentoo to Debian, personally.)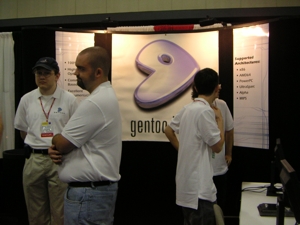 Via was there, pimping these cute little EPIA motherboards. I've got a SparcStation IPX case that's absolutely screaming for me to put one of these in it… but I need *another* computer at the house like I need a hole in the head. Of course, this means that I'll probably do it sometime, but right now it's lower in priority than my pictureframe-out-of-P133-laptop project.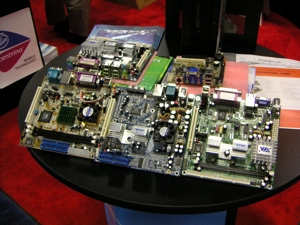 Mozilla.org was there this year, and they had a pretty decent turnout at the booth. Nabbed one of the Firefox posters - it's now hanging in my office @ work.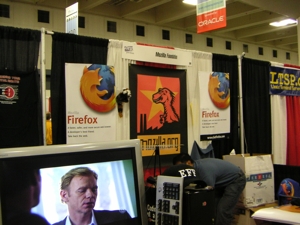 The Fedora Project had a really empty booth - I was pretty disappointed with it. You know you're not doing well when the Debian guys have nicer digs. :) (A joke - Debian is non-profit, while Fedora's sponsored by RedHat to some extent.)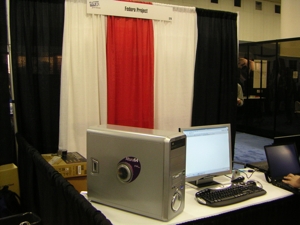 This one's for Paul Curtis - Deviant Tech was demoing their Jabber appliance. Interesting stuff.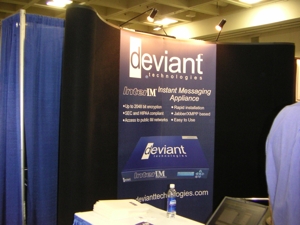 Redhat was there, as usual, with their monolithic booth in the middle of everything. No free distro tho.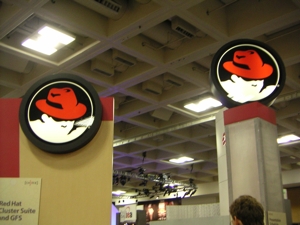 Got this cool little penguin bobblehead free from BMC Software. I have no idea what they do, but I'll plug em.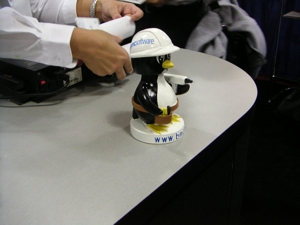 The Linux Show was getting ready to broadcast live from the show.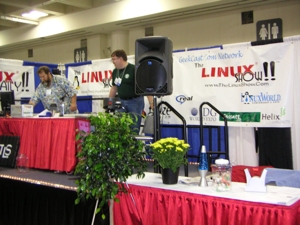 Darth Vader, your computer is ready. Jeez, does that look like it's possessed by the dark side of the Force or what?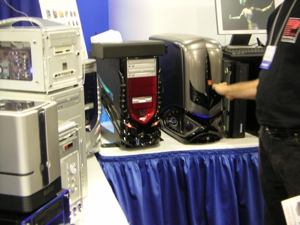 And saving the best for last… I cruised by O'Reilly's booth and noticed this schedule of events. The dude who's name is circled is one of Ars.Linux's own. greenfly, my hat's off to ya. Congrats!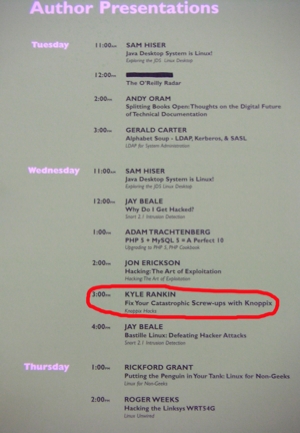 That's about it for this year's Linuxworld. Unlike past shows, I could (and should!) come back tomorrow, but unfortunately, I can't… :( Next year, I'll budget more time.