SSL Explained
Cryptography Demystified
Bill Childers
http://wildbill.nulldevice.net/presentations/sslpreso
Agenda
Why encryption?
How SSL works
Digital Certificates
Practical issues

No Math!
Agenda: Why Encryption?
PANIC! The risks
Cryptography objectives
Everyday uses for cryptography
Practical issues
"Imagine code arriving over the Internet. It presents its credentials and says, 'I can prove I don't eat children for breakfast; I rarely eat children for lunch.' You know: all these things you'd like to know about a program if you're going to invite it into your home."
Whitfield Diffie
Chief Security Officer
Sun Microsystems
PANIC!
Stuff we need to do on the Internet

E-Commerce
Communication
Remote working

Nasty stuff out there

Identity Theft
SPAM
Viruses
Phishing
Cryptography Objectives
Privacy
Authentication
Non-repudiation
Integrity (Message)
Confidence (ie, trust)
Everyday uses for cryptography
SSL Server
E-Mail
IPSec (VPN)

We will look at SSL as an example

DO try this at home!
Agenda: SSL
How SSL works
A Special Intermission
What is SSL?
Connecting to a secure web site
SSL handshaking
A Special Intermission
Whereupon I try to explain a security concept without math, or diagrams, or fumbling for words. Warning, here be dragons. Who's got the beer?
What is SSL?
Secure Sockets Layer
Developed by Netscape
Standardized by IETF as Transport Layer Security (TLS)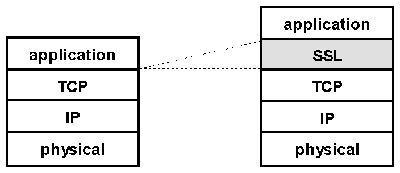 Secure Web Example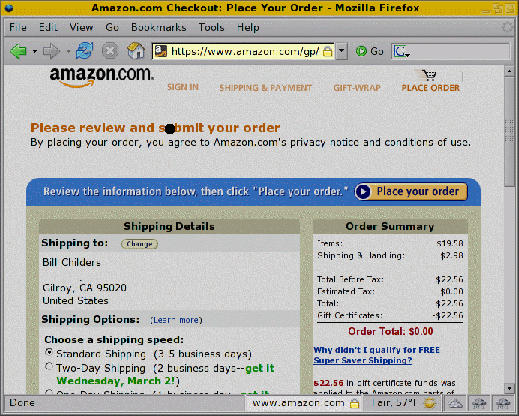 Secure Web (continued)
SSL allows us to encrypt stuff for privacy (ie, credit card number)
Also checks who we are encrypting to for authentication
Is it really Wells Fargo when you do your on-line banking, or is it just a web site made to look like it? (phishing)
SSL Handshaking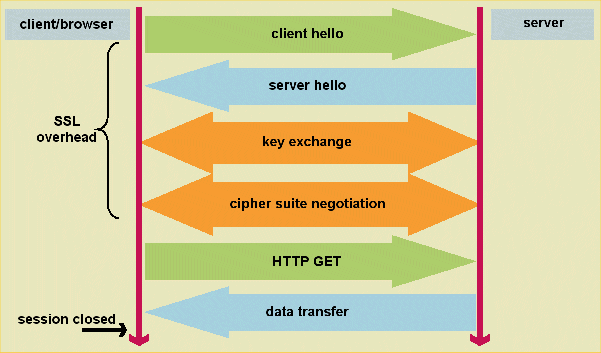 SSL Summary
https://server.domain/
Browser authenticates the server by using its certificate
Browser and server negotiate cryptography methods
Traffic between browser and server is private
PANIC - Where are we?
Privacy
Authentication
Non-Repudiation
Integrity
Confidence
Agenda - Digital Certificates
Digital Certificates
Anatomy
Digital signatures
Anatomy of a Digital Certificate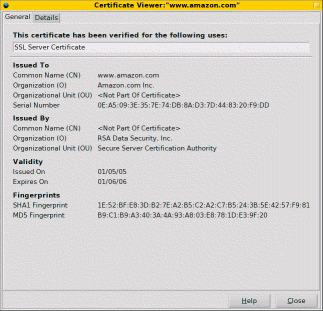 Also Important (but not shown):
Issued To: Server FQDN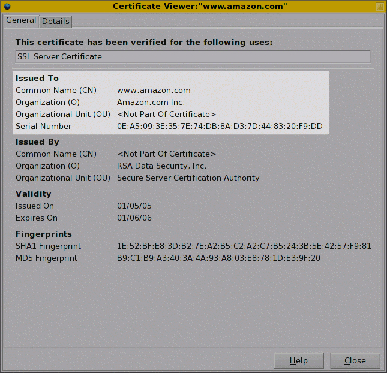 Fully Qualified Domain Name
Common Name (CN)
Browser checks that FQDN matches CN
Issued To: Continued
IF the URL does not match the CN of the cert, warn the user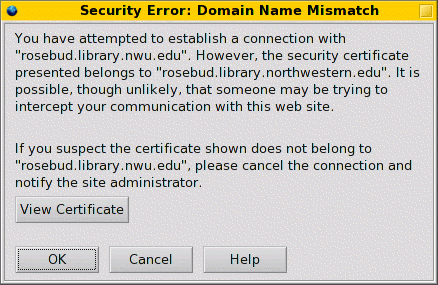 Issued By: Certificate Authority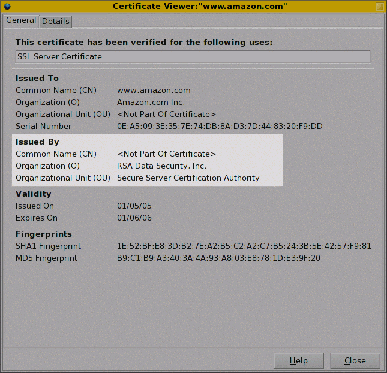 Certificate Authority (CA) issues and signs certs
Browser checks who signed the cert
Looks up in a list of pre-loaded/trusted CAs
Issued By: Continued
IF the CA is not known, alert the user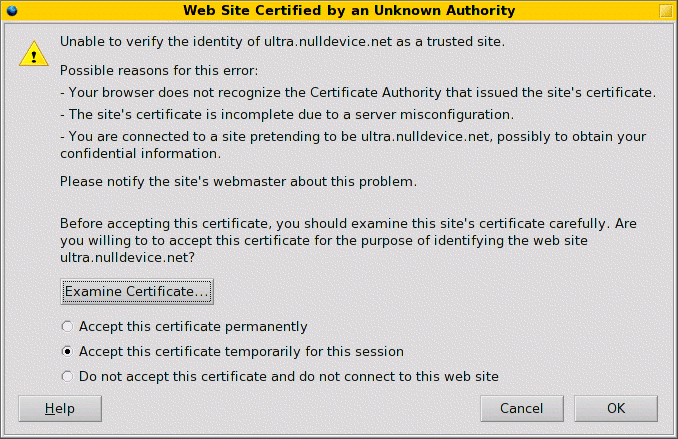 Public Key
Part of a unique key pair
Private key stays on the server
Anything encrypted with the public key can only be decrypted with the private key
Therefore, anything passed from browser to server via encryption is private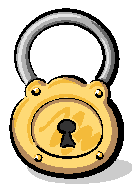 Validity
Certs are issued for a finite period
Often 1-2 years for a SSL server cert
If the webserver presents an expired cert the browser will warn the user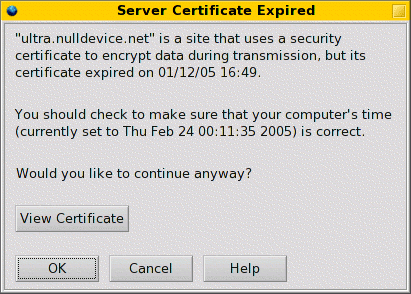 Digital Signature
Constructed by encrypting the cert contents with the CA's private key
Does not make anything private
Anyone who has the CA's public key can decrypt and thereby validate the signature
The CA's public key can be found on the CA cert
CA certs are widely distributed
Hopefully the cert is genuine!
At some point we need to take a leap of faith and choose who to trust
PANIC - Where are we?
Privacy
Authentication
Non-Repudiation
Integrity
Confidence
Digital Certificate Summary
Digital signature on the cert makes it possible to prove who issued it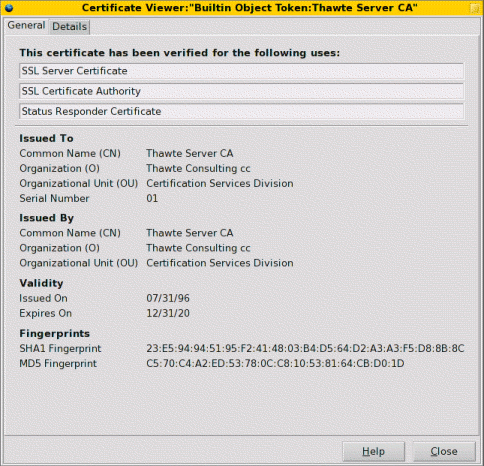 Agenda: Practical Issues
Faster encryption
Smaller signatures
Trust
Practical Challenges
Encrypting/decrypting using public/private keys is very slow
For the same reason, it is not practical to encrypt a whole document to sign it
If only the server has a private key, then anything sent to the client will not be encrypted
We need privacy in both directions
Faster Encryption
Public keys are long, eg 2048 bits
Public key encryption is very expensive (CPU intensive)
Much faster secret key encryption is available - similar to ancient methods
Encrypt just the secret key with the public key
Can now use fast secret key encryption for data encryption both ways
Smaller Signatures
Not necessary to encrypt the whole document with the private key
Create a hash - like a checksum, but more sophisticated
Encrypt just the hash
Quicker and smaller
Smaller Signatures - Continued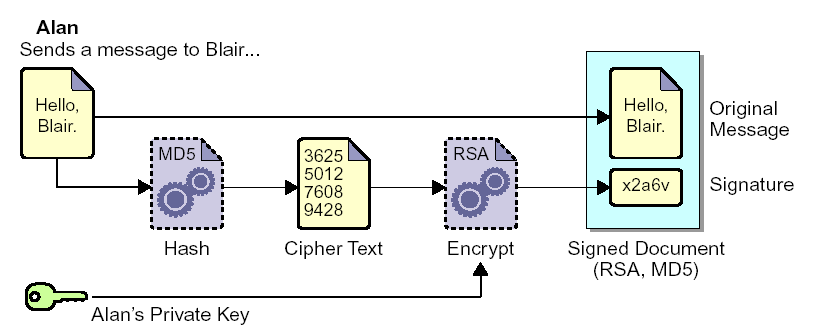 Verifying a Signature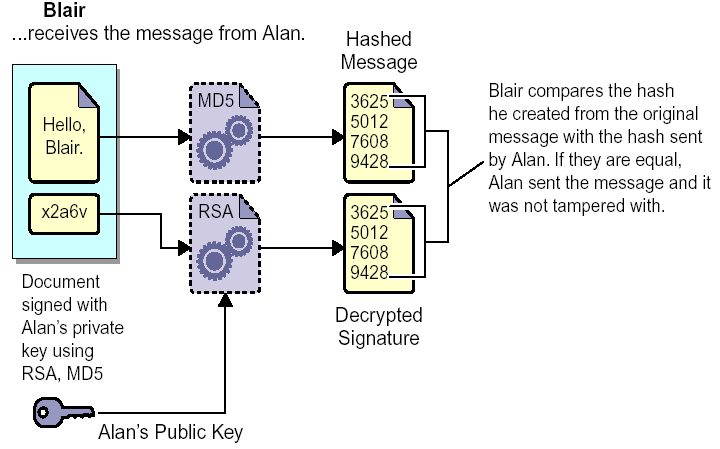 PANIC - Where are we?
Privacy
Authentication
Non-Repudiation
Integrity
Confidence
Google Homework
Public Key Algorithms (RSA, DSA, Elliptic-Curve)
Secret Key Algorithms (DES, 3DES, IDEA, Blowfish, RC4)
Hash Algorithms (MD5, SHA1, SHA2)
Standards (TLS, S/MIME, PKCS)
Final Summary
Encryption Technology is fundamental to the Internet
Technologies such as SSL provide practical solutions
Signed digital certificates are the currency of encryption
Certificates provide a level of trust, but we must still choose who to trust
Who do we ultimately trust?
Browser comes with pre-trusted certificates
Ultimately we trust whoever shipped the browser
Who ships the browser?
PANIC!
Questions and answers
"When cryptography is outlawed, bayl bhgynjf jvyy unir cevinpl." --Kevin McCurley's Thought for the day, June 24, 1997
Where to find me:

Linux Journal (Magazine, Web, IRC)
Twitter: WildBill
Facebook: wildbillchilders